BIENVENUE sur le site d'EVILO, Plasticienne Performer
Que vous ayez découvert ce site par hasard ou après un premier contact, je vous remercie et vous souhaite la bienvenue dans cet univers de ma production essentiellement picturale.
La Peinture est pour moi une musique de la vie qui jamais ne s'arrête. Mon but est de la célébrer par une liberté si grande que votre regard a également sa place.
N'hésitez pas à me laisser vos messages et commentaires via les réseaux sociaux. Dans ce monde qui tourne trop vite, nous sommes avons sans doute été faits pour vivre l'éternité de l'instant. Alors à bientôt,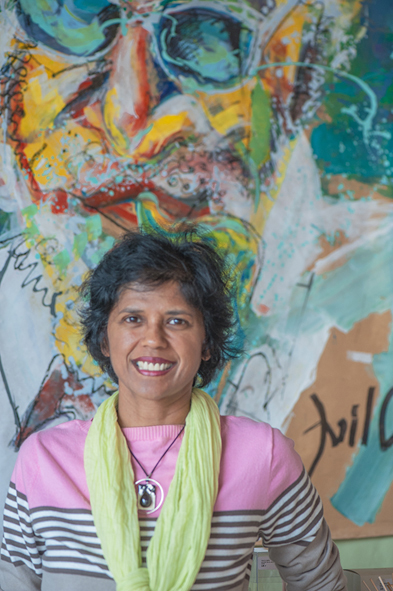 WELCOME to Visual Art Performer, EVILO's website
Should you happen to discover my works here by sheer coincidence or after having met me somewhere, I sincerely thank you for your interest and welcome you to my painting universe.
For me Painting is an unlimited Music of Life. My aim is to celebrate it with a freedom so wide that your eyes can find their way too.
Don't hesitate to contact me through any of the social links above.
In this so rapidly changing world, we were meant to meet and maybe at least share the eternity of an instant. Hope to hear from you soon…


 Ce site présente un aperçu de ma production comprenant plusieurs séries de PEINTURES, SCULPTURES et PERFORMANCES. Ces trois axes de production relèvent de la facialité humaine, un thème de prédilection qui me préoccupe depuis l'âge de douze ans au point de faire l'objet d'une thèse de Doctorat à l'Université de Paris 1-Sorbonne (EFFIGIES, Voiles, Pans, Abymes mention : Très Honorable) et de se poursuivre dans des directions multiples tout en se complétant.
Si la représentation de la face humaine reste encore présente dans certaines PEINTURES et SCULPTURES c'est parce que la fascination demeure encore. Quelquefois réalisée au couteau sans dessin préalable dans un temps très limité, elle fait l'objet à chaque fois d'une lutte avec la ressemblance jouant entre les limites de l'abstraction et la figuration, à rendre le connu reconnaissable. J'aime ce moment magique où la main fait plus vite que la tête ne pense.
Les PEINTURES ne représentant pas directement la Face humaine la contournent par d'autres sujets en retenant que la frontalité avec le thème. Elles apparaissent comme une provocation au mouvement en posant tout d'abord la couleur en aplat l'associant à un choix d'éléments mythiques pris dans leurs acceptions le plus large. Ces figures éternelles bâties au fil du temps, issues de cultes et de traditions de diverses civilisations sont réinventées et fusionnées dans un nouveau langage plastique ayant ses propres codes et signes…
Les PERFORMANCES sont des peintures encore plus gestuelles et de grand format. Ce sont des moments intenses d'émotion et d'énergie qui s'inscrivent dans la temporalité d'un événement unique, souvent en synchronisation avec la musique Jazz.
Ma pratique plastique de Peintures, Performances et Sculptures forment un ensemble dense et infini d'énergies

 On my website, you can find several series of PAINTINGS, SCULPTURES and PERFORMANCES, three aspects of production around the human face, a subject that I treasured so much that it became the theme of my thesis at the University of Paris 1-Sorbonne (EFFIGIES, Veils, Sides, Abymes mention: Très Honorable). Since then, it has been developed in other several directions which curiously seemed more and more linked.
The image of the human face still appears in PAINTINGS and SCULPTURES proving that it's a subject which keeps haunting me. My open air Knife portraits need no preliminary drawing and in a very limited time, I like to cut (with an art knife) through the limits of the abstraction and figuration, to find resemblance which is not totally realistic but more spiritual. I particularly appreciate this magic moment where the hand defies the brain work. In the multicultural island of Mauritius people of all religions, cultures, colors and even in my family (being the seventh member) are so mixed together that confusion sometimes replaces distinct realities. I have come to notice that this vision of all things getting mixed together appears more and more in our rapidly changing world.
My PAINTINGS are about the freedom of breaking Ethic, Social, Sexual and Religious borders. Ideas from several sources merge to build hybrid realities creating and showing a new type of vision. Rules get modified or broken, limits too. In this infinite metropolis representing landscapes, portraits, still life, the spectator can pursue the creativity with his own eyes and mind.
The PERFORMANCES are intense moments of emotion and energy which occur in a single event, mostly Jazz Concerts but can also be linked to all events… My Artwork is about mixing vibes to create unique vivid pieces.